Powerful
Graphic Design
Combining creative ideas and powerful designs to bring our designs to life
Custom Graphic Design Services
Graphic Design is boundless, and we're here to help with all your design and printing needs.
We may be living in the 'Digital Age' but you can rest assured print is far from dead! There is little to match a well-designed, carefully crafted print advertisement as an eye-catching way to promote a brand. Consumers love a beautifully printed, innovative and original brochure, and this method of promotion is ideal for niche markets.
There's a reason major brands still use print media: it makes a big impact when the reader turns a page, and as a leading name in printing in Miami we can help get your brand out there too with superbly designed, expertly crafted print ads and material that will grab the attention of your target market.
We will create the perfect creative graphic design for your product, and help you get it right where it needs to be: in the hands of the customer!
Our Print Design Services
Think of us as your one-stop-shop for all your design and print solutions. We can design and print business cards that get your brand out there, brochures and catalogs to promote your products and services, and flyers for handing out at trade shows and events.
If you need envelopes, postcards and branded stationery, we provide a full service for printing in Miami that covers all of these, and we can help with presentation folders and trade show displays. If what you need designing and printing is not listed here that's no problem, get in touch and one of our team will be happy to discuss your requirements.
Never underestimate the power of a well-designed and original logo. Your logo is the very heart of the brand, it's what people remember. Think of the top brands in the world and, in your mind, you see the logo. That's what we want to do for you.
We have an expert team of designers who know what is needed in a logo that works, a logo that makes an impact straight away. We'll work with you to create a memorable logo that represents your business and sets you apart from the crowd.
If you have an idea then talk to us about it, and if not, let us put our minds to it and we'll come up with some ideas to work with! You'll be working with a leading company in design and printing in Miami, and we love to give our clients the results they need.
Your brand doesn't stop with your company name and logo. Branding is about creating an image that people will remember, and that immediately reminds the customer who you are. We'll help create that brand for you by asking all the right questions that provide the clues to your branding:
What is your company focus and strategy? Why have you set out on this path? Who is your audience, and what are you offering them that others do not? All of this combined with our company branding experience enables us to work with you to enhance your brand and stamp your mark on the market! Talk to us now, we're here to help.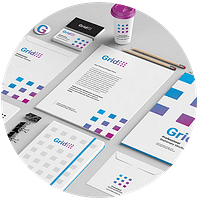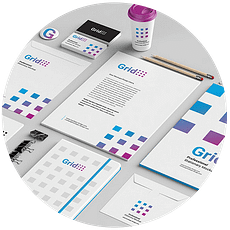 Designing from a business card
to a full size catalog, we got you covered!
Get a Custom Design Quote