Artwork Instructions
Help preparing your artwork files for printing.

We recommend saving as a PDF file. You may also send the file in the following types: JPG, JPEG, TIF, TIFF, EPS, and PNG.
We prefer that you send PDF with embedded or outlined fonts. PDF files are easier to handle and will likely speed up your turn-around.
Remember to flatten your files before uploading.
For Roll Labels, we recommend designing:
• vector files (e.g. EPS or PDF)
• 300 DPI or higher
• use black (100% K)
• for fine lines and text smaller than 9pt, use black (100% K) only
If you send us an RGB file, there is a chance that a color shift may occur and you may not be satisfied with your job.
THESE COLORS ARE IN RGB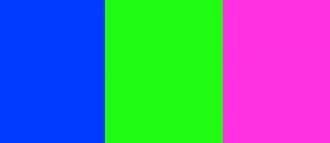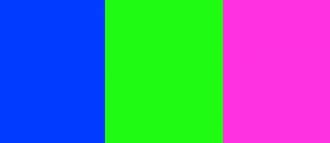 THESE ARE THE SAME COLORS BUT IN CMYK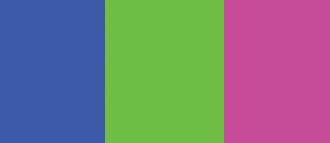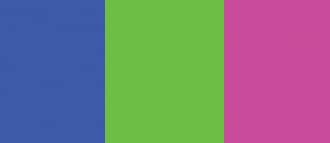 You should always start and finish your designs in CMYK color mode.
Low resolution files may be printed as is or will be placed on hold until we receive new files, slowing your turn-around.
THESE ARE 72 DPI LOW RES IMAGES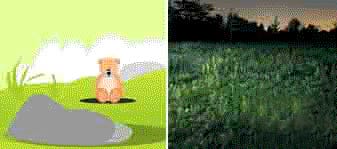 THESE ARE THE SAME IMAGES BUT AT 300 DPI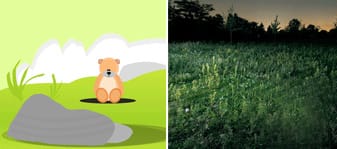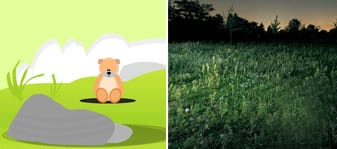 We only accept 300 dpi files and no less.
Bleed must extend past the cut-line and will be trimmed from the product during the final cutting phase. When the image is required to extend all the way to the edge, bleed is needed to preserve the finished look and the quality of the final product.
Please keep all text at least 0.125″ inside the cut-line.
– The bleed for Standard Products is 0.125″.
– The bleed for Booklets and Presentation Folders is 0.25″.
We recommend using our templates at all times.

Yes, but if the border is too close to the cutline, it may be cut off-center slightly.
We cut through many sheets at a time, so watch your borders to avoid an unwanted mistake.
We require Print Ready files with proper rotation. Files submitted are printed HEAD to HEAD as-is based off your files.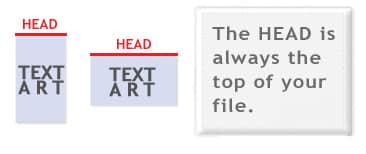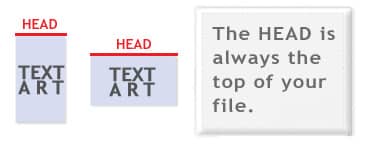 Make sure to set up your files so that when we print them HEAD to HEAD the final product will read the way you would like. Also, front and back files need to be set up either both sides vertically or both sides horizontally.


If you would like your back file to be upside down, please send your artwork as shown below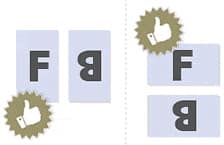 If you have a fold-over or greeting card, please send your artwork as shown.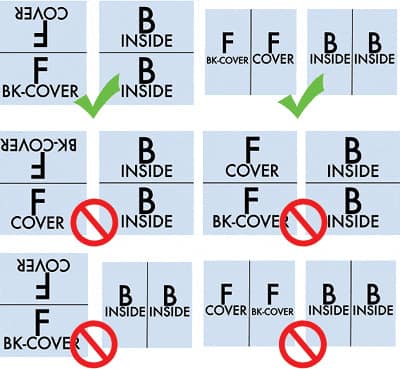 Any transparency issue can be resolved before saving your file.
What a transparency problem looks like on screen….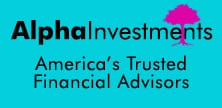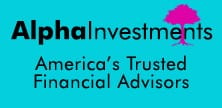 After a transparency problem is printed…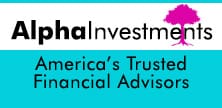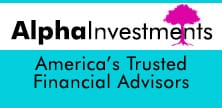 When sending artwork, do not send extra files, like proofs or samples, because they might get printed. Only send the files you need printed.


We are not responsible for these kinds of files being printed. Unless requested by one of our employees, DO NOT send files that you do not want printed.
Primarily used to intentionally overlap inks for a number of reasons, overprint can cause unexpected results. We suggest that you turn all overprint objects off before submitting your files.
ON SCREEN VIEW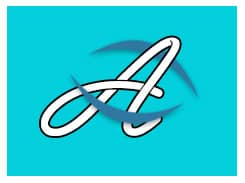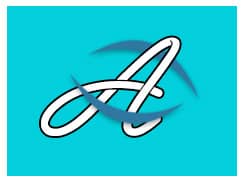 AFTER PRINTING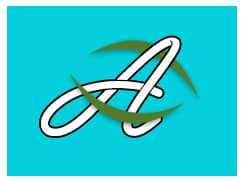 In this case the logo was set to overprint. The colors from logo are mixing with the colors from the background. Unexpected results may occur if you have accidentally set certain objects to overprint. Always check logos and other artwork before submitting.
No. We are now specifically set up to process one side at a time, and this requires that each side of a job must be on a separate file.
2 FILES – 1FR, 1BK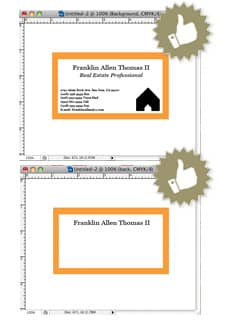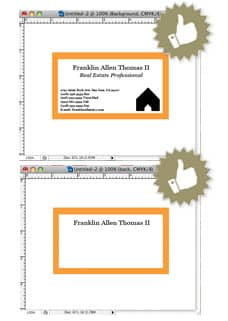 1 FILE – FR & BK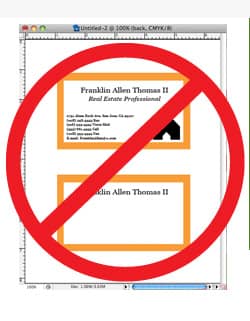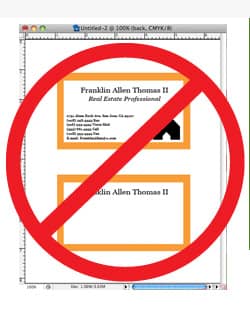 Not separating files will cause delays and you might have to send the files again. Remember to separate the pages of your .pdf files as well.
When creating a Spot UV job, you must include a Spot UV template file along with the regular print file. The Spot UV template file is used to show where the UV coating needs to be applied.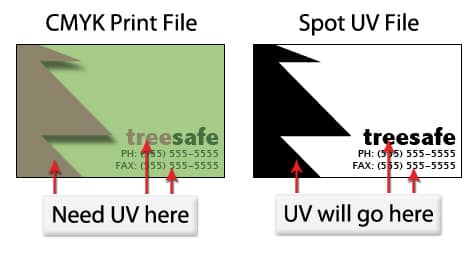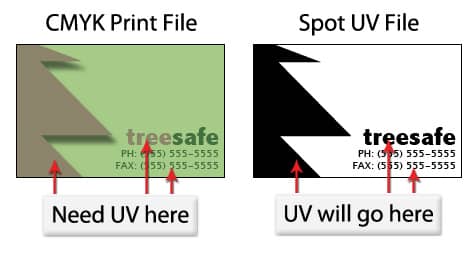 For better quality we recommend creating mask files in vector based programs such as Illustrator or CorelDRAW.
Please only use solid 100% K to indicate where you would like the UV. Do not use shadows, glows or grayscale images. White will indicate no UV.
Remember, if it's white, you can write!
When using a blue in your design, always make sure to leave at least a 30% difference in your Cyan and Magenta values
100% C 100% M 0% Y 0% K
ON SCREEN


AFTER PRINTING


Blue is close to purple in the CMYK spectrum. Remember, use a low amount of magenta whenever using high amounts of cyan to avoid purple.
EXAMPLE: C-100 M-70 Y-0 K-0
When exporting from any program such as Indesign or Illustrator, use these settings to make sure your .PDF files export correctly.
EXPORT SETTINGS FOR .PDF FILES
Adobe PDF Preset is set to: Press Quality


Compatibility is set to: Acrobat 4 (PDF 1.3)

Compress Text and Line Art is set to: Off


Grayscale images that are converted to CMYK will have a color shift in the final print. That shift may be green or yellow.
GRAYSCALE ON SCREEN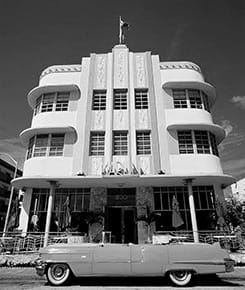 GRAYSCALE AFTER PRINT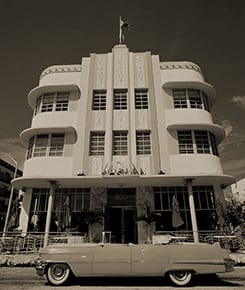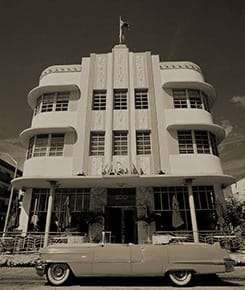 Always check the CMYK values of your grayscale in the final CMYK document. If there are other values other than K in your grayscale image, there is a chance that the color will vary.
To eliminate all values other than K, use your Channel Mixer (adjustment layer) in Photoshop, then click "Monochrome" and adjust accordingly.
Rich black is an ink mixture of solid black, 100% K, with additional CMY ink values. This results in a darker tone than black ink alone. If you print black alone as 100% K, the resulting black may not be as dark as you might like.
100% K ON SCREEN


100% K AFTER PRINT

We recommend using
C 60 M 40 Y 40 K 100
This will give you a deep, dark, rich black.
*Products that are printed with dye-sublimation (Premium Polyester Banner, Flags, Table Covers, Fabric Tube Displays, etc.)
call for the following color values:
C 100 M 100 Y 100 K 100
When designing plastic cards, it is important to keep in mind that the frosted and clear plastic cards are transparent. Also, all plastic cards come with round corners at no extra charge!


As you can see, the difference in the transparency is shown in the image above. The clear cards (right) are completely transparent. The frosted cards (center) are semi-transparent and cannot be seen through easily. The opaque white plastic cards (left) are solid white and not transparent at all. Keep this in mind when designing your plastic cards, it will affect how your design will print.


Printing on Clear and Frosted Plastic Cards will come out slightly lighter than average compared to other stocks. This is due to the plastic itself and is not a production issue.

When setting up a rich black value, please make sure to use C 60 M 40 Y 40 K 100 values. Do not use all 100 since it will cause problems and will not print any darker on plastic.
Since there is no white ink in CMYK, it is important to keep in mind that the frosted and clear plastic cards are transparent. The three designs above are the same as in the first picture. You will notice that the white area in the clear cards (right) and the frosted cards (center) has no ink and will show the transparent material it's printed on. In this case, the clear cards and frosted cards white area show up with no ink on the printed piece. Also, keep in mind that all colors that are printed on clear cards or frosted cards will be transparent as well.
With the clear plastic cards, there might be a small percentage that may have light scratches. This issue originates from the manufacturer and is due to the material and handling. To help compensate for this, we run overs of the clear plastic cards to help meet the required quantity.
Clear plastic cards will come with a thin protective layer on one side that can be peeled off. This is to prevent the cards from scratching during packaging and shipping.
Booklets are a little more complex to design. Also, if you have artwork you created from another company, it might not meet our rules. For best results, please download our templates available here.
Here are rules to follow when creating your Booklets:
• Page counts start on the cover as page 1, inside cover as page 2 and so on.
• Total bleed is .25" and total Safety is .5". For example, an 8.5×11 booklet with bleed should be 8.75×11.25 total. This allows us to set up your crossovers properly.
• Only single pages will be accepted. NO readers OR printers spreads.
• We prefer a multipage PDF but single page files are also ok.
Our page counts for booklets start on the cover as page 1, inside cover as page 2 and so on. In the example below, you will see a 8pg booklet. Each page will show the page number. Click and hold the page corners to turn the page. This is also reflected in our templates.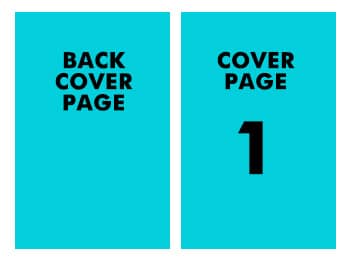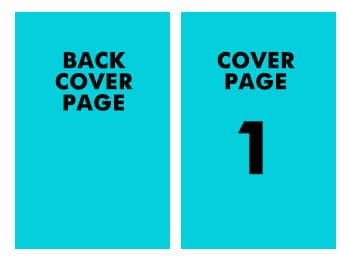 Crossovers are common in booklets and require extra attention. A Crossover is an image, text or other graphic element that goes from one page to another.
Below you can see a good example of how to create crossovers: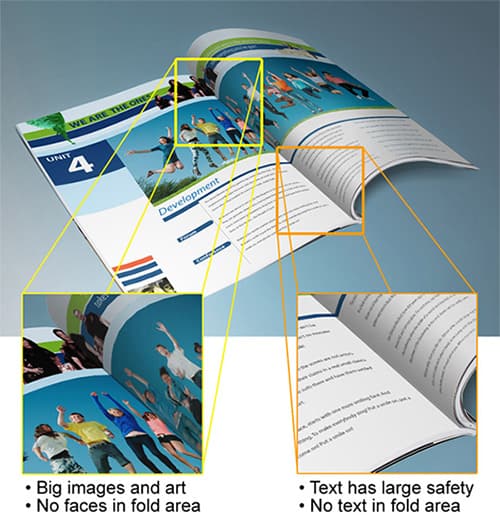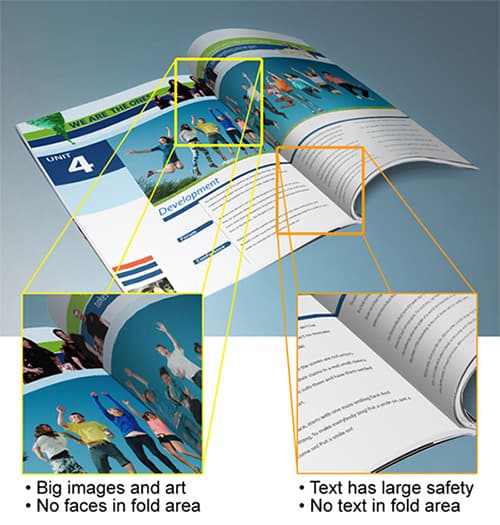 Designers must pay close attention to the crossover design and make sure it is as seamless as possible on the finished piece. Also, do not use text or thin lines as crossovers. Big pictures work best.
Note: Due to the nature of saddle stitch binding, crossovers may not line up 100% on the final booklet.
Artwork done in Indesign or other layout software as spreads or facing pages must be saved out as single page pdfs. When creating your design, keep this in mind especially when doing crossovers. The easiest way is to create the bleed is when creating your document. Below are instructions on how to create your document in Indesign.
When creating your document, make your page size the cut size and your margin size .25" for safety for a .5" total: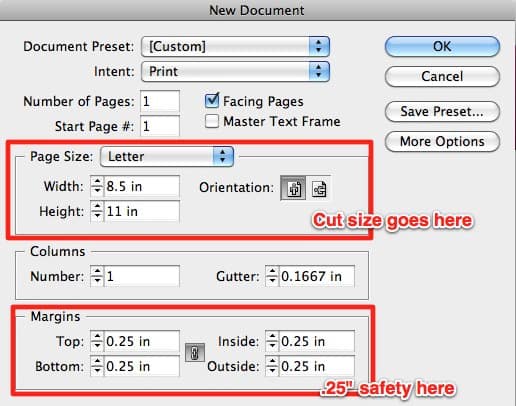 Then, click the More Options button on the right. It will reveal Bleed and Slug settings below. Enter .125" as the bleed for a total of .25":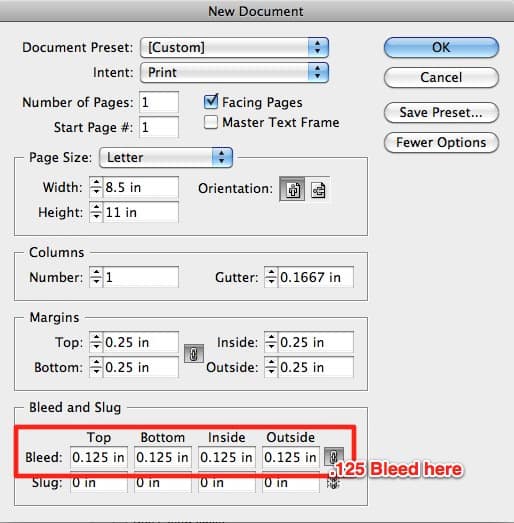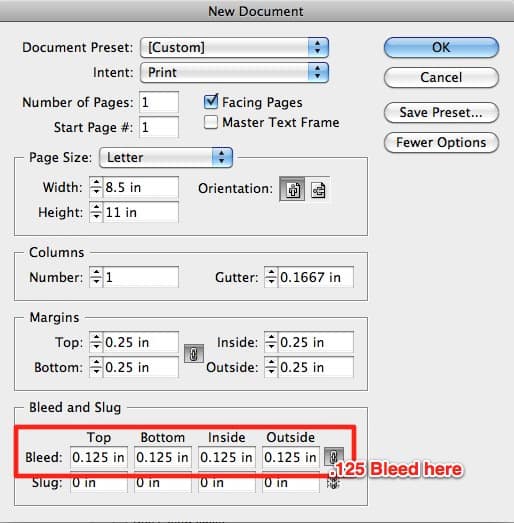 Your Indesign document is now ready for proper booklet layout. You should see proper bleed and safety guidelines: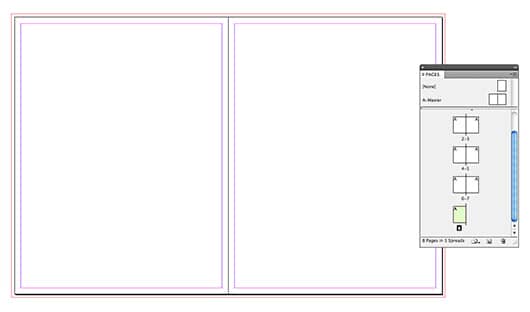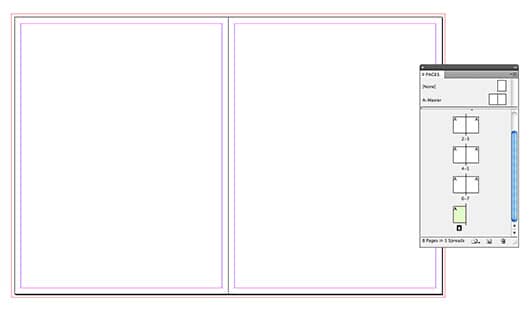 When you're ready to export your booklet as PDF, make sure to Use Document Bleed Settings in the Marks and Bleeds menu: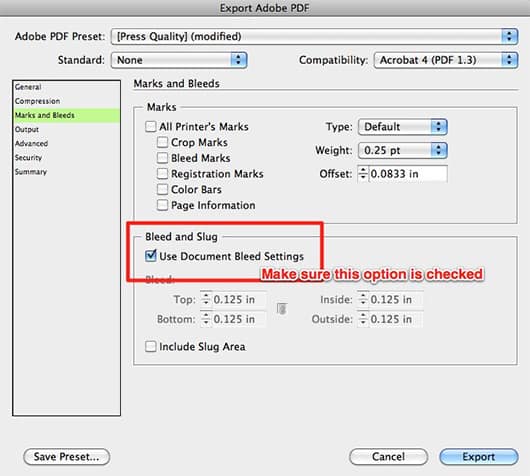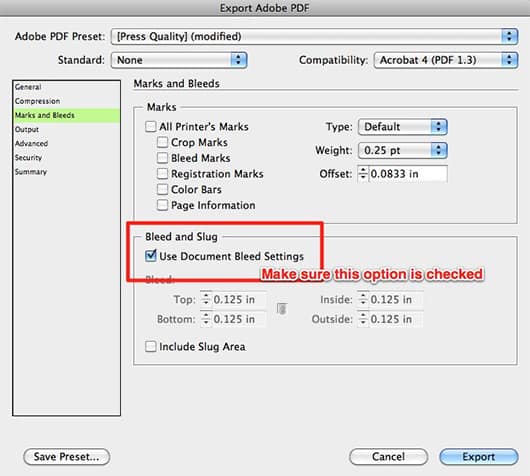 After submitting your booklet, you will receive an email from our online booklet proofing system called Fourte. This system will allow you to double check all the pages and make sure they are in the correct order. There you can approve or decline and re-upload pages if you need to. You will also be able to preview your booklet as if it was printed and bound.
The bleed required is 0.125″ (0.0625″ on each side).

Text and images should be at least 0.25″ from the edge.

Artwork with more than 40% ink coverage must be submitted as an offset product.

Full color backgrounds should be avoided.

Use a white backgrounds with low ink coverage (e.g. logo and text only).

Avoid or limit use of transparencies and gradients.

For window envelopes, the window area must be free of ink.

For Digital Envelopes:

4/0 = Full Color Front

4/4 = Full Color Front and Full Color on Back Flaps

0/4 = Full Color on Back flaps
Bright Silver Metallic – 2mil
Bright Silver Metallic comes standard in a 2mil thickness. Offering excellent tear strength and opacity, these mirror-like labels are heat and chemical resistant and are suitable for application on a variety of surfaces. We recommend them for indoor use. We offer white ink as a 5th color. Please see FAQ #9 below for details on how to set up your artwork with white ink prior to uploading.
Clear BOPP – 2.3mil
Clear BOPP is made of Glossy Clear Biaxially Oriented Polypropylene with a permanent adhesive that sticks well to a variety of surfaces. BOPP is oil and water resistant but we only recommended it for indoor use. We offer white ink as a 5th color. Please see FAQ #9 below for details on how to set up your artwork with white ink prior to uploading.
Eggshell Felt – 70lb, 6.3mil
70lb Eggshell Felt features a distinct texture, high opacity and excellent ink holdout. This facestock also contains 30% post consumer waste content making it an excellent choice for eco-friendly applications. It is manufactured with wet strength properties to increase performance in moist environments. These are not recommended for outdoor use. We recommend that you test your specific application.
Semi-Gloss Paper – 55lb, 3.2mil
Semi-Gloss Paper is a budget friendly solution that doesn't sacrifice quality for economy. Semi-Gloss Paper stock has a permanent adhesive that sticks well to a variety of surfaces. It is not resistant to oil or water and is recommended for indoor use only.
White BOPP – 2.3mil
White BOPP is made of Glossy White Biaxially Oriented Polypropylene with a permanent adhesive that sticks well to a variety of surfaces. White BOPP is oil and water resistant but we only recommended it for indoor use.
The designation of the pockets is based on the flat images so when choosing pockets be mindful of this, please use this image as an example.
DESIGN LIKE THIS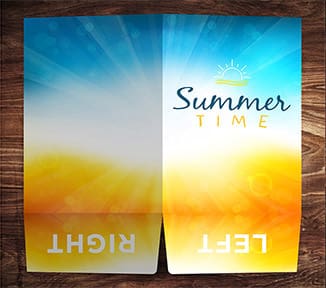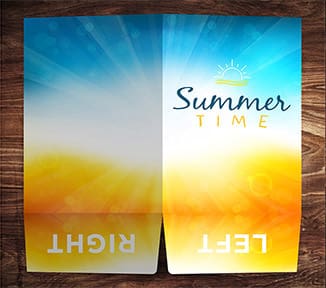 ORDER LIKE THIS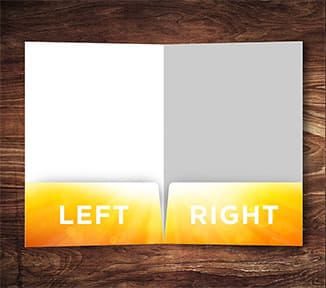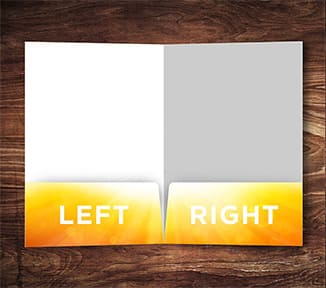 IMPORTANT – Please follow this rule when choosing slits, keep any design, text or logos out of the slit areas. The pocket side you want the slits on should follow the orientation rule above.